This was Halloween 2007. We went to Josh and Amanday for their annual hayride. Whoo Hoo! It was tons of fun. The idea was for the children to dress like Snow White and the Seven Dwarfs and friends. This is a dwarfs (Jackson & Noah), the Woodsmen (Jonathon), Snow White (Bethany), and Superman (Cooper). I think Bethany's smile is so pretty in this picture. However, I love Jonathon's 'I'm Hot and Your Not' face. Hee Hee
This is the evil stepmother (Katlyn), the dwarfs (Jackson & Noah & little Corey), the woodsmen (Jonathon), Snow White (Bethany), Superman (Cooper), dwarf (Madi), and Ethan without his costume. Yes that is Big Corey behind the dwarfs.
The Evil Stepmother not looking so Evil. This costume looks great.

They would like to get the show on the road. There are places to go and houses to trick.
Now who do you think drove all these great kids around all night on the hayride? Yep you guessed it. Emma Mae. She was the cutest spook all night. The part that I want to remember about that night is that I rode in the truck with Josh and Emma Mae. Emma Mae was a little restless and didn't want to hang out and do nothing. So, I gave her candy. Josh wasn't thrilled to say the least, but he let me give it to her. Under the condition of course that if she had trouble sleeping I would take care of her. I never got a call so I guess she slept. Hee Hee.

**this would be my second favorite picture with Josh in it. The first was the one were he is kissing Jackson. I think it is the ture enjoyment that he has on his face when he is really enjoying his kids.
***side note***
do you see how Emma Mae is looking at me in this picture. This was when she couldn't get enough of me. Now she is to busy for me. Oh well. Everything goes full circle. She will love me like that again one day. Hee Hee.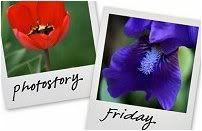 Hosted by Cecily and

MamaGeek