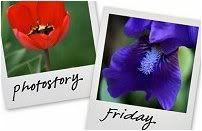 Hosted by Cecily and

MamaGeek
Well two weeks ago Chris hit a deer with his truck. I thought I would share my thoughts on this subject, and some pictures.
How bad could it be right?
Not to bad right?

Wrong! It was really bad.

This is the poor animal he hit. I guess deer are not that smart? I mean my husband drive a pretty big truck, and it was night time. The deer I guess didn't see him coming?
I think this is the biggest deer my husband has ever killed. (yes he likes to hunt he just has no luck.) So, of course he had to have his picture taken with him. He actually asked if we could get him mounted. I said listen I am not opposed to having a deer head on the wall. I am just not okay with stuffing one you hit with your truck.

It is really gross that the deer's tounge is sticking out, and it appears to be winking at the camera.
I don't know about this last picture. Is it odd that it happened or odd that my husband took a picture of it? Which one?