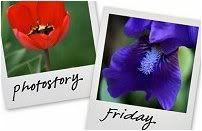 Hosted by Cecily and MamaGeek



My Dad had to have his right leg removed last year from below the knee. It has been a long tough road for him. His leg still has not completly healed. He has about a dime sized wound left to go. Like a said it has been a very long tough road for him. He has been a great example to me. I don't think I would have been able to handle it as great as he has. Now I know that dealing with it has been difficult, but he is carring on with his life. Go Dad Go!

Anyway, last October my Sister held a benifit to raise money for a new leg for my Dad. We went to Pennsylvania to help. I was glad to have the chance to spend sometime doing something so important for my Father. These are some of the pictures I took that weekend.

This is a picture of my Dad at the Turkeyfoot Fish and Game Club. We were getting ready for the benifit. He is in his early 50's, and yes he loves anything Camo.
This next photo was taken somewhere in West Virginia. There was a place to stop and look at the trees, and take pictures. (Kelsea, Lynsey, Bethany, Noah)




These next 3 pictures where taken while driving down the road. Chris was driving and I was taking the pictures. We were going about 65mph, but you won't be able to tell by looking at the pictures. (somewhere in West Virginia)
I grew up with mountain like these. Seeing the trees change colors was never exciting to me. However, now that I live in a flat, colorless city I get it. I get why every year the city people would come up to the mountains and drive slow and be looking and pointing and stopping to take pictures. Does this mean I am a city girl?