I love scary movies. I love the jumping and screaming. I love how scared I am while watching them. It is so thrilling. However, I have always seen them at home. This way if it gets to intense I can just go to the bathroom. I can still hear the movie, but I don't have to see the movie. Trust me with my imagination I know exactly what is going on without seeing it. Well the new Friday the 13th movie came out and I wanted to see it really bad. Chris dug his Friday the 13th Tshirt out (that's how bad he wanted to see it.) Our 13 year old (Kelsea) really loves a good scary movie, but our 15 year old (Lynsey) hates scary movies. Lynsey is scared of Spiderman movies. So on Saturday the 14th Chris, Kelsea, and I went to see Friday the 13th.
Friday the 13th was so scary. I was scrunched so far down in my seat that my back was flat on the seat. I can't even remember how many times I jumped. I just kept thinking oh my goodness. Anyway it was great fun. I would totally do it again. However, there was allot of killing, swearing, drugs, drinking, and nudity. Most of this stuff was really unnecessary, but it is what it is.If they ever play this movie on the Sci-Fi channel there will not be much to see. Kelsea was really embarrassed when the nude shots happened, her Dad was sitting right beside her. Hee Hee. The killing part didn't seem to phase her. I can't wait to get a mask and scare her. Hee Hee.
Anyway when we were leaving the theatre they had a guy dressed up like Jason. I asked if I could get a picture for my blog. Kelsea thought it was so gay. However, after I got one done I said to her 'Do you want me to take your picture for your myspace?'. She of course said 'yes'. Then all the teens that were standing around started lining up to get their pictures with their cell phones.
(our pictures were taken with my camera I had in my purse.) You really should click on the picture to get the full effect of how scared I was. Hee Hee. Kelsea is totally faking how scared she is. Hee Hee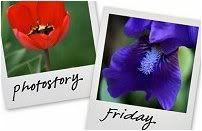 Hosted by Cecily and MamaGeek