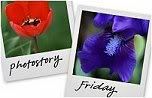 Hosted by Cecily and MamaGeek
I want to say a few things right now:
2.) I am by no means a photographer. I take pictures of the kids but I am not a professional, and I never thought I was. I just wanted 1 or 2 good shots to use. I took 100 pictures that afternoon. It was hard to choose in the end.
Back to the story. Well as we were driving there it just got darker and darker. It was really cloudy and we thought we would get rained on. Also, the wind was really bad. You'll see. The wind never really stopped.
Here we go.....
I think this summer I would like to take the rest over there and snap some photos. All in all I think I didn't fine enough.